Happy Friday, y'all! I hope you are all getting into your holiday spirit (be it jolly or Scrooge-like). If you haven't quite found your groove yet, let one of these terrific event start you off right!
Coastal Disturbances
Theatre Ink at Newton North
Friday, Dec 7 and Saturday, Dec 8 at 7:30pm | $7.00
Theatre Ink presents Coastal Disturbances by Tina Howe. Set on a private beach in Massachusetts, Coastal Disturbances explores love in its many different forms; It provides pure comedic entertainment as emotions run wild along the shore. This show sends the endearing and profound message that, with proper sacrifice and dedication, true love reigns supreme. Directed by Jack Reibstein and Nick Rodriguez.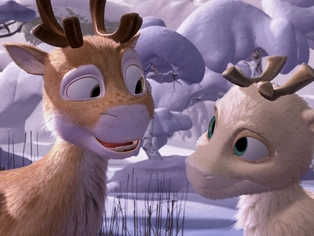 Niko the Flying Reindeer: A Scandinavian Holiday Film
Scandinavian Cultural Center*
Saturday, Dec 8 at 1pm | Donations accepted
Niko the Flying Reindeer is the story of a Finnish reindeer boy who dreams about becoming of Santa's flying reindeer, just like his father. He takes lessons from Julius, a Finnish flying squirrel. Niko helps Santa fight off wolves who want to attack his reindeer and becomes a hero just in time for Christmas.
Dahlia Gallery 8th Annual Handmade Scarf Show
Dahlia
Saturday, December 8 at 11am
Custom handmade wearables and accessories from artists and fine craftspeople.
Dahlia Gallery announces our 8th annual handmade scarf show.  The show features original work from renound textile artists across America including work by Carter Smith, Leni Hoch, Hillary Gifford, Hulda Bridgeman, Loominus, Betsy Giberson and more.  Each scarf offers one of a kind unique designs that are created by using a variety of techniques.
The gallery is open Tuesday-Saturday from 11-6.  Please check our facebook page for extended holiday hours.
Holiday Craft Fair & Open House
New Art Center*
Sunday, December 9 from 1pm-4pm | Free 
Open House and Holiday Craft Fair!
-Meet teachers
-Register for classes
-Register for February, April and Summer Art programs
-Art activities for children
-Ceramics Demo
-Free Exhibitions with Family Connections Drop-In visits
Holiday Performance

Silver Newtones
Sunday, December 9 at 1pm | Free 
Silver Newtones senior chorus invites the public to a free performance of Christmas and Hanukkah songs new and old.
Gods and Rites

Charles River Wind Ensemble*
Sunday, December 9 at 3pm | FREE
Treat yourself to a powerful afternoon concert! Featuring music by Wagner, Schmitt, Absil, and John Philip Sousa!
Celebrating the Music of Carole King and Joni Mitchell

Newton Family Singers
Sunday, December 9 at 4pm | $10
The Newton Family Singers invite you to our Fall Concert… Celebrating the Music of Carole King and Joni Mitchell.  Come enjoy the enduring hits of Carole King, the Brooklyn-born earth mother, and Joni Mitchell, the poet from the Canadian prairie.  Bring your family, and come sing with us! The Newton Family Singers are an intergenerational chorus and band celebrating family, community and American folk music.